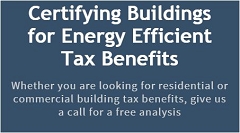 On Friday December 19th President Obama signed into law H.R.5771 to extend several expired
tax provisions for one year including the "45L" Energy Efficient New Homes Tax Credit. The 45L
extension is retroactive for the calendar year 2014 and provides $2000 per dwelling unit.
Builders and developers can claim this credit for dwelling units (homes and apartments)
completed in 2014. The 45L tax credit can be claimed retroactively for up to three years.
The 45L requirements and the certification process remain unchanged:
Single family and multi-family project s up to 3 stories
Dwelling units must be 50% above the 2006 International Energy Conservation Code (IECC). The CEC's Title 24 energy code is significantly more stringent than the IECC code which therefore makes the 45L tax credit very accessible to California builders
Energy features are inspected and verified by a HERS rater (45L Eligible Certifier)
45L certificate verifying certified software, % above code, and signed by HERS rater who verified the energy features
Register the 45L certificates in an approved HERS registry for quality assurance
Dwelling units are sold, leased or rented between 2010-2014
If you have 2014 or earlier projects, we can review your projects and provide you with 45L tax
credit certification on qualified projects.
If you have questions please contact John Schultz at (715) 340-2970.